FIRST HALF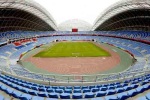 The Juventus from Torino and the China national team are going to celebrate, at the Olimpic Stadium of Beijing, a match corresponding to the Italian team's preseasonal tour over the Far East.
| | | |
| --- | --- | --- |
| | vs. | |
In the previous recognition before the game, both trainers Antonio Conte and Jose Antonio Camacho have seen that the grass has grown too large so to play the match in the best conditions, due to the recent rains that have fallen down in the region of Beijing.
Knowing that the 2 official gardeners usually cut 1.200 m2 of grass in 12 minutes...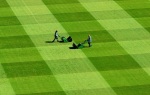 How many gardeners will be needed to cut all of the 12.000 m2 of grass in the 120 minutes remaining for players to jump on the field?
2 gardeners ---  1.200 m2 ---  12 minutes
? gardeners --- 12.000 m2 --- 120 minutes
Go to the second half to discover the solution
SECOND HALF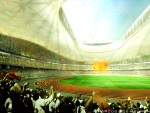 If 2 gardeners need 12 minutes to cut 1.200 m2, it seems to be logical that 20 gardeners will need 120 minutes to cut 12.000 m2.
However, you can just let the 2 gardeners do their job, as in 10 times longer, they'll cut 10 times more surface. So that, in 12 minutes they'll cut 1.200 m2, in 24 minutes they'll cut 2.400 m2, in 16 minutes they'll cut 3.600 m2 ... and in 120 minutes they'll cut all the grass: 12.000 m2.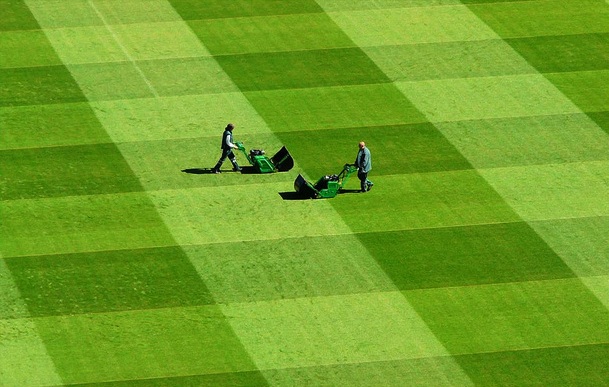 Sometimes we tend to simplify problems and, as in this example, we transform a composed rule of three into a simple rule of three. We feel more comfortable handling only two variables: 'if 2 gardeners cut 1.200 m2, we need 20 gardeners to cut 12.000 m2' and we forget about the third variable: time.
For our mind, handling 3 variables at a time means an additional assembly effort, so that we prefer solving automatically the problem by what it seems to be a 'lógical' way. And this 'mental laziness' leads us to error.
If you arrived here, and want to tell us any comment on this topic, please send us an e-mail with the following link: contact@matifutbol.com . We greatly appreciate your help, as your comments are helpful to improve our site.
If you liked our riddle, you can share it in facebook or in twitter .
And if you want to be informed about our new publications, you can follow us in our facebook and twitter profiles.
Go to the Championship to see more logic teasers.